Posted by Praxis Skis on 12th May 2016

NEW!! Introducing the Praxis EXP. The EXP found its way into the Praxis Skis line up in response to a request from our Praxis dealer Besseggen Fjellsport in Vågå, where skiing has transcended beyond sport and has been engrained into their culture for centuries more than just lifestyle, truly a way of life. The skiers exploring the Haute Route Norge came to Praxis with a request for a smaller underfoot, fun, lightweight, easy-to-ski expedition style ski for their remote terrain. This amazing ski route traverses across remote terrain in Norway. The Haute Route Norge is a five day randonée ski tour in the heart of the Jotunheimen National Park. The route goes over eight glaciers and seven 2000-metre summits, including Glittertind and Galdhøpiggen. Considering the vertical and distance of travel, a smaller freeride mountaineer class ski was in order.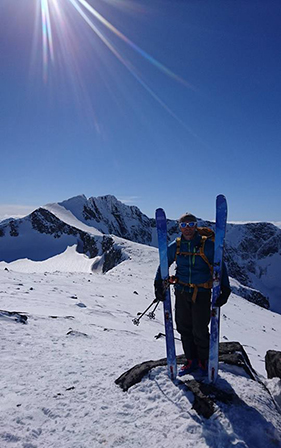 After lengthy deliberation and many conversations back and forth, the design was finally put into place and prototypes were made to be tested- the 183cm EXP 119-88-102. The ski has a longer sidecut length with a subtle tip rocker and relaxed upturn, and offers a flatter tail with pin-tail style taper. One of the major design elements that you will notice in the EXP is the amount of taper from tip to tail. In other words, the tail is 17 mm narrower than the tip. Why? This being an expedition class ski we wanted a design that offered the option for an easy quick turn across a steep fall line. A ski that wants to turn with ease. Though the 88 millimeter underfoot is narrow by Praxis standards, its purpose demands the ski to have some float and balance well in powder, and manage other variable off piste backcountry conditions. The EXP has been engineered for optimal float and balance in these conditions. The broad and respectively fatter tip allows the skier to drive turns and ski with power, while its counterpart, the flat tail with notable taper allows for the power of a flatter tail on hard snow and gives the ski an element of forgiveness and ability to smear when sinking into soft snow, powder or variable wind affected sastrugi.
So the design and reasoning was put into place. The ski was shaped and the prototypes were made. With the snow melting and winter coming to an end testing needed to be done. Prototypes were boxed up and shipped out to be tested on the proposed final destination of the Haute Route Norge.
With two remaining prototypes sitting at the factory, I find myself in a familiar situation... You would think after 10 years and a countless number of new ski designs that one would settle down and lose that kid at Christmas feeling of anticipation and overwhelming desire to just drop everything and go skiing. But unfortunately this time it was going to be a day or two before these skis made it out for testing. Weather and work was not in my favor. As I sat at my desk updating the website the skis leaned distractingly against the wall to my side. The lion in the graphic sat staring at me and I couldn't help but constantly stare back and examine the grain on the curly ash veneer top... Wow those skis look sick... I can't wait to try them.

The reality was these two orphaned prototypes were left behind for a reason. They were not the skis that they were intended to be. With every new shape and design comes some testing and these were the test skis. And testing was the theme of the season so we did some testing when we built these skis. Extra camber - yup! Too stiff - woops! Umm what to do with these skis? Knowing we had designed the skis for long big mountain style ski tours my initial plan was to mount them up with dynafits and head to the Southern Sierra for a long weekend of climbing around on 14,000' peaks. Skiing a mix of stale north facing winter snow, ice, and spring corn with long descents of 6000' or more you can expect to see a range of snow conditions. The skis remained leaning against the wall in my office awaiting a decision on what exactly they would see for a binding and what their first expedition would be.
The weather makes the decision and the Southern Sierra was not going to allow us access in the coming days. A lightweight Salomon resort binding would be mounted up and the skis would be tested for the first time on the groomer at Squaw Valley. In the end this made more sense, giving more opportunity to test in a variety of terrain. It can be difficult to get a feel for a ski when only using it for a single descent on variable backcountry terrain. But also the skis being a #4 flex and having extra camber seemed very fitting for carving around skied out resort snow and groomers. I looked forward to making the first turns in the morning on this new shape, and reflecting on the design, I started to realize this could likely be more than a big mountain touring ski, depending on the specifics of the build.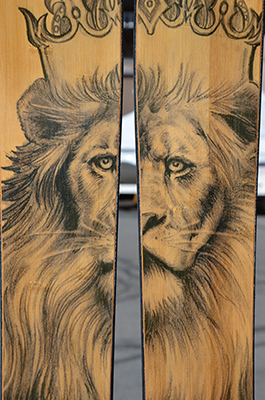 I'm not the one that shows up at the resort early to carve on fresh corduroy. Honestly I can't even tell you the name of most of the groomed runs at my local resort. But today was different. Off piste conditions were ok but not begging to be skied. So I found myself carving fast and looking for the fastest steepest groomers, kicking off the top of the lift anxious to get the skis up to speed and lay them on edge for another test. I noted the fact that the 15 mm of taper was also just as effective on the groomer for powerful quick carving. The skis felt stable and responsive and I felt good about the new design. As the day progressed, I moved off piste to a variable new snow, old wet snow and bumped out surface. Not easy to ski and not the snow conditions that would allow for our typical freeride shenanigans of dropping cliffs and straight lining. Today was about control and precision, staying on top of your game and the changing snow conditions. The EXP tails allow for me to make quick turns and release the tails when needed. The tips allowed for me to plow into the crud and drive the ski. Wow. This ski is more than just a slim underfoot mountaineering ski.
A few days later back at the factory and a message pops up from my friends in Norway...
"Keith, thank you! First trip was amazing! Quick turns good, tips are floating, and nice edgehold on fast long curves on easier terrain."
-Knut-Erik Tessnes - Besseggen Fjellsport, Vågå
So the EXP was born. And depending on how you build it I feel this could be a great friendly resort freeride carver as well as true to its design and name.... a great ski for you next expedition..
Grab your pair today and click here to make your plans to travel on the HØGRUTA Haute Route Norge. Besseggen Fjellsport will gladly help you organizing the Høgruta skitour for 2017, and offer you exclusively the combination of local guides and professional guides, to provide you a safe, challenging and exotic ski trip!